Capsicum plaster can make the partial skin generate physical reaction to accelerate blood circulation and relieve pains. It contains natural herbal extracts for long lasting relief of muscular fatigue, lumbago, back pain, stiff shoulders and arthritis. The ingredients of capsicum plaster are 100% natural.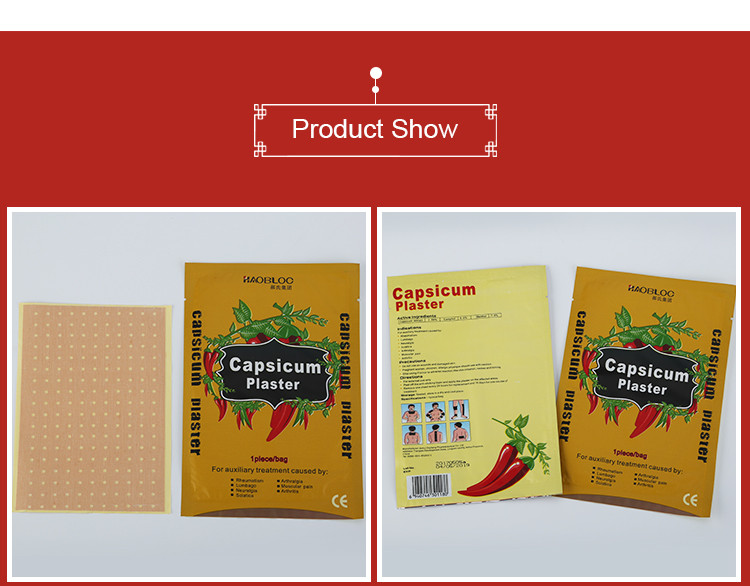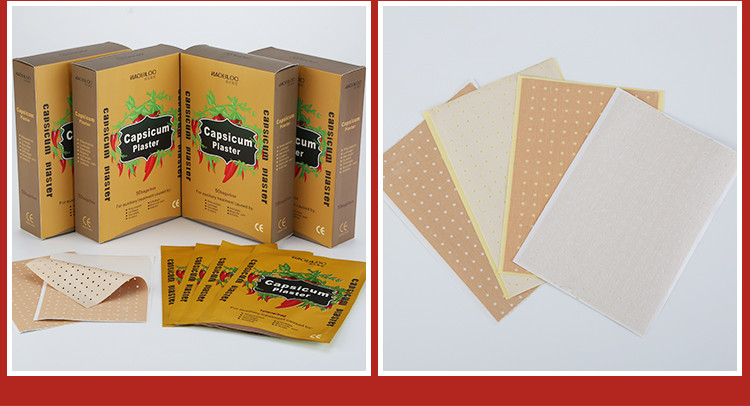 Name
Capsicum Plaster
Sku
GXT-107
HS code
3005109000
Material
Cotton fabric ,Natural rubber,Release paper
Active Ingredients
Capsicum extract 2.89%,Camphor 9.6%,Menthol 7.8%
Size
12cm*18cm or customize size
Package
1pc/bag, 50bags/box, 25 boxes/CTN
Shelf time
2 years
MOQ
25boxes
OEM&ODM
Yes ,we get 16 years OEM&ODM experience
Indication
For auxiliary treatment caused by Rheumatism, Lumbago, Notalgia, Sciatica, Arthralgia, Stiff Shoulder and Muscular Pain.
Properties
It can activate blood circulation and dissipate stasis.It is effective to relief pain on knee or shoulder resulted from rheumatism,arthritis. It's also helpful to reducing the pain of stiff shoulder,sore muscle,sprain,strain,bruises,swelling etc.
Precautions
1.Pregnant women,children,allergic physique should use with caution 2.If appear adverse reaction,like skin irritation.rashes and blisters appear,please stop using immediately.
Directions
1.Clean and dry the affected areas.
2.Peel off the anti-sticking layer and apply once or twice a day.
3.The plaster should be worn for 12hours.