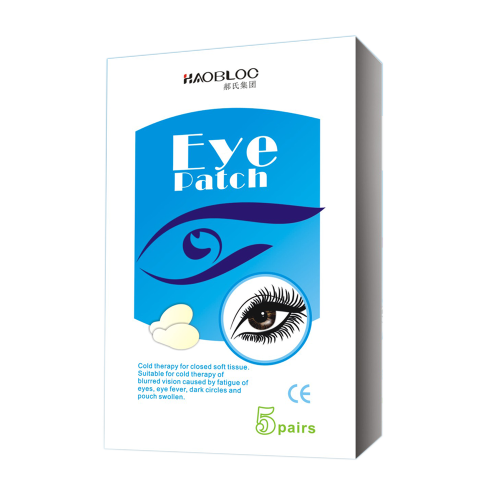 Item specifics
Product Name

Eye Patch
Patch Material

Non-woven fabric, hydrophilic polymer gel etc.
Intended Use

Cold therapy for closed soft tissue.
Size

50mm×70mm/pc
Packing Details

2pcs/bag,5bags/box,200boxes/ctn
Certificate

CE,ISO9001
Samples

Free Sample
Description
Generic Name: Eye Patch
Product Description: Main components are medical non-woven fabric, hydrophilic polymer gel, polyethylene film etc.
Intended Use: Cold therapy for closed soft tissue. Cold therapy for blurred vision which caused by asthenopia, eye burning, dark under-eye circles, puffy eyes.
Suitable for: Children and adults.
Direction for use:
1. Clean the skin around eye area with water or wet tissue;
2. Open outer package of eye patch and take it out;
3. Close your eyes, apply eye patch to your eye area, make it fully contacted with your eye area.
4. 15 - 20 minutes for each time, 2 - 4 patches one day.
Contraindications, precautions, warning and presentation:
1. Children must use under guardian.
2. Keep it out of reach of children.
3. This product is disposable.
4. Stop using if occur to allergic reaction.
5. Allergic to this product or Allergic physique should be use with caution.
6. Stop using when the nature of this product changes.
Storage: Sealed, keep it in a cool and dry place.
Specification: 50mm×70mm×1pairs/bag×5bags/box
Validity: 2 years
Manufacturer: Anhui Province De Ji Tang Pharmaceutical Co.,Ltd.
Address: Tianqiao Development Zone,Linquan Country,Anhui Province,China
Tel: 0086-663-8528373