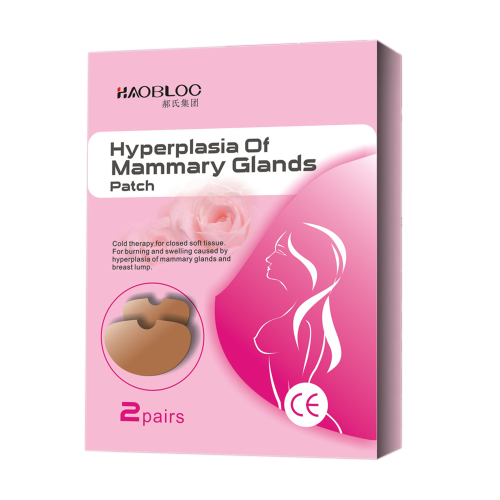 Hyperplasia of Mammary Glands Patch
Item specifics
Product Name

Hyperplasia of Mammary Glands Patch
Material

Spunlace fabrics,Medical hydrogel,Release paper
Intended Use

Cold therapy for closed soft tissue.
Packing Details

2pcs/bag,2bags/box,200boxes/ctn
Certificate

CE,ISO9001
Samples

Free Samples
Description
Generic Name: Hyperplasia of Mammary Glands Patch
Product Description: Main components are medical non-woven fabric, hydrophilic polymer gel, polyethylene film etc.
Intended Use: Cold therapy for closed soft tissue. For relief burning and swelling caused by hyperplasia of mammary glands and breast lump.
Suitable for: adults
Directions for use:
For external use only.
Peel off transparent film and apply gel side directly to breast burning area.
1-3 times a day.
Each patch can be used for more than 8 hours.
Contraindications, precautions, warning and presentation:
1. Clean affected part before using patch, avoiding contact with water for a long time while using it.
2. Please don't touch medicine core in the middle of patch when package is opened.
3. Please keep out of reach of children.
4. This patch is one-time use product. Destroy it after use.
5. This patch is a physical product. Accepting doctor's treatment if it is emergency.
6. Stop using it if skin allergies.
7. Allergy to this product are forbidden to use, alergic constitution should be used carefully.
8. It is forbidden to use if the characteristics of patch changes.
Storage: Sealed, keep in a cool and dry place.
Validity: 2 years
Manufacturer: Anhui Province De Ji Tang Pharmaceutical Co.,Ltd.
Address: Tianqiao Development Zone, Linquan Country, Anhui Province, China
Tel: 0086-663-8528373