New arrivals tomato royal detoxification foot detox patch

Tomato Detox Foot Patch (made from plant quintessence) discharges internal moisture and toxins from the sole through foot points. The amazing effect of this foot patch can be both felt and seen.
It has become one of the most popular and well-known detox and healthcare products at present.The main ingredient of foot patch is natural bamboo acid quintessence, which has super functions of infiltration and toxin-dispelling. Its effects can be lasted for as long as 8 hours.
By using foot patch, toxins and wastes resorted in incretion, intestinal canal and circulatory system can be quickly expelled.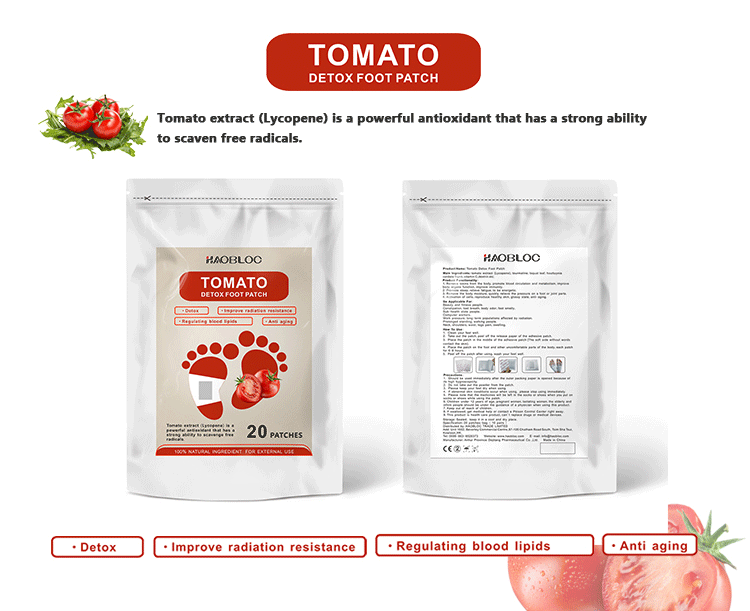 Products Name:Tomato Detox foot patch
Item No.:GXT108D
Size:Power pad: 6cm*8cm  Adhesive Patch: 10cm*12cm
Packing Detail:2pcs/bag, 10bags/box,

Main Ingredient:omato extract, Bamboo vinegar, wood vinegar, tourmaline, chatin, loquat leaf, Houttuynia cordata Thumb, vitamin C, dextrin etc.
Product Functionality:1. Remove toxins from the body, promote blood circulation and metabolism,     improve body organs function, improve immunity.
                                                 2. Promote sleep, relieve fatigue, to be energetic.     

                                    3. Remove the body moisture, quickly relieve the pressure on a foot or joint parts.
                                    4. Activation of cells, reproduce healthy skin, glossy state,anti aging.          

Be applicable for:Beauty and fitness people, Constipation, bad breath, body odor, foot smelly, Sub-health state people, Computer workers, Work pressure, long term populations affected by radiation, Prolonged standing, walking people, Neck, shoulders, waist, legs, pain, swelling.    

Storage:Sealed, keep in cool place.